Do you know of any great ONLINE courses I can ad ? I'm looking for courses in Enameling, Jewelry techniques, 3d drawing, photoshop, anything you can use in or around jewelry making . If so, please link me at preeapproved@gmail.com
Ceramic Jewelry
Learn basic techniques to create, model and enamel three jewelry pieces
Ceramics is a discipline that falls in love and achieves wonderful levels of relaxation and introspection. Julieta Álvarez – designer specializing in jewelry – takes the world of ceramics further by incorporating it into jewelry design, gathering more than 7 years of experience designing ceramic jewelry in her workshop and exporting it worldwide.
In this course, Julieta will introduce you to her ceramic universe, teaching you basic techniques to design, model, enamel and create from scratch a small collection of three jewelry pieces.
Creation of Textile Jewelry
Learn to weave unique and full-of-life accessories
Resignify and value handwork is what Maria, a textile artist, does with her artistic and social project called: María la Biyux; Creating textile accessories full of color that bring life and power to the pieces, elevating them to the category of jewelry.
In this course you will learn to weave your own textile accessories, identifying the appropriate color range according to the piece and the person for whom they are intended. You will learn how to make fabrics, stretch them and cross them together to gradually transform them into unique jewels.
Embroidery and Accessories Customization
Learn to customize textile pieces with free embroidery techniques
Free embroidery is an approach to this art where everything goes. Without rules or limits, you can experiment with all kinds of textile fibers to give life to a unique accessory, adding color and texture with the application of basic points. Josefina Allendes – plastic artist – is passionate about crafts and more specifically for textile art, and a faithful practitioner of free embroidery for different brands in the world, including her Wild Spirit children's clothing brand.
In this course, you will learn to intervene accessories with materials that you have around you using different free embroidery techniques. You will integrate all kinds of material in the objects you choose to give them a second use enjoying each stitch.
Professional Foldforming Techniques
Learn foldforming techniques with their inventor, Charles Lewton-Brain. Start with a discussion of the basic principles of foldforming and the tools you'll use for this unique process. Next, find out how to use foldforming to create basic line folds and forged line folds such as the elegant Ruger fold. With these fundamentals covered, you'll explore cutting and forming techniques for creating star folds, pleated folds and woven folds. Build on what you've learned to achieve more advanced folds such as chased wedge T-folds, rolled folds and cross folds. Move on to learning multiple methods for scoring and bending your work. Plus, Charles will explain how paper forms can help you design your own foldformed pieces.
Granulation Techniques Demystified
Renowned metalsmith and Rio Grande instructor Victoria Lansford shares trade secrets from 25 years at the bench as she teaches you granulation techniques for gorgeous jewelry. First, hone your torch control as you form granules from sterling silver and learn how to fuse wire and granules to sheet metal. Discover the visual cues that indicate when your piece is fully fused, then tackle fusing larger designs. Follow along as Victoria guides you through fusing stacked, 18K gold embellishments as well as perfectly symmetrical granulated earrings. Then, learn how to craft impressive, granulated ring bands. Add intricate fused details to a blank, and shape and solder the band –– plus, discover essential techniques for finishing your ring with decorative granules, a bezel and a perfectly set stone!
Make the Most of Your Hydraulic Press

Let your press do the heavy lifting with guidance from metalsmith and renowned instructor Melissa Muir. Start by discovering the essential operations of your press and making a stylish pair of earrings using a pancake die. Then, create custom forms, learn different techniques for piercing shapes and explore new riveting options for eye-catching layered pieces. Next, find out how to work with silhouette dies as you make a chic pierced pendant form. Moving on, Melissa shows you how to create bracelet blanks, before forming your pieces using two methods: anticlastic and synclastic. Finally, learn how to fold-form blanks and apply your new skills to stunning bracelets and pendants.
Professional Bezel-Setting Techniques
Join jewelry artist Danielle Miller-Gilliam, and find out how to make a bezel setting for a variety of flat-backed stones:— even irregular, square, and pear-shaped selections. First, discover how to measure your bezel and test your stone during fabrication to ensure the perfect fit. Learn how backplates enhance the design of your setting, and use accessible soldering techniques to create the foundation for stunning rings and pendants. You'll find out how to craft smooth, gap-free settings, and conquer irregularly shaped stones with fabrication techniques — like how to solder crisp bezel corners — as well as proper positioning when setting the stone. You'll even learn to use your chisel and hammer (or flex shaft) to turn sheet metal into a structural bezel, and follow along with Danielle to refine your settings. Finally, discover the safest, most effective ways to polish your stones and projects for professional-quality results.
Torch-Fired Enameling: Luscious Color & Design
Bring vibrant custom pieces to life as expert Barbara Lewis shows you how to make enamel jewelry! Set yourself up for success with a lesson on torch control and delve into mixing pigments to achieve exactly the colors you want. Next, discover how to use enamel threads and sgraffito to create textural, dimensional effects that will complement any design. Want to create wearable art? Use acrylic enamels for a painterly effect and follow along with Barbara to incorporate imagery with decals. Work with ferric chloride to achieve eye-catching etchings before combining stencils and overglaze enamel to quickly create a layered effect. Then, start working with fully dimensional pieces! Create distinctive designs as you try out must-have methods for pleating, creasing and sculpting copper mesh. Finally, incorporate fine and sterling silver into your work and find out how to use shimmering gold leaf to punch up any piece.
Settings for Every Shape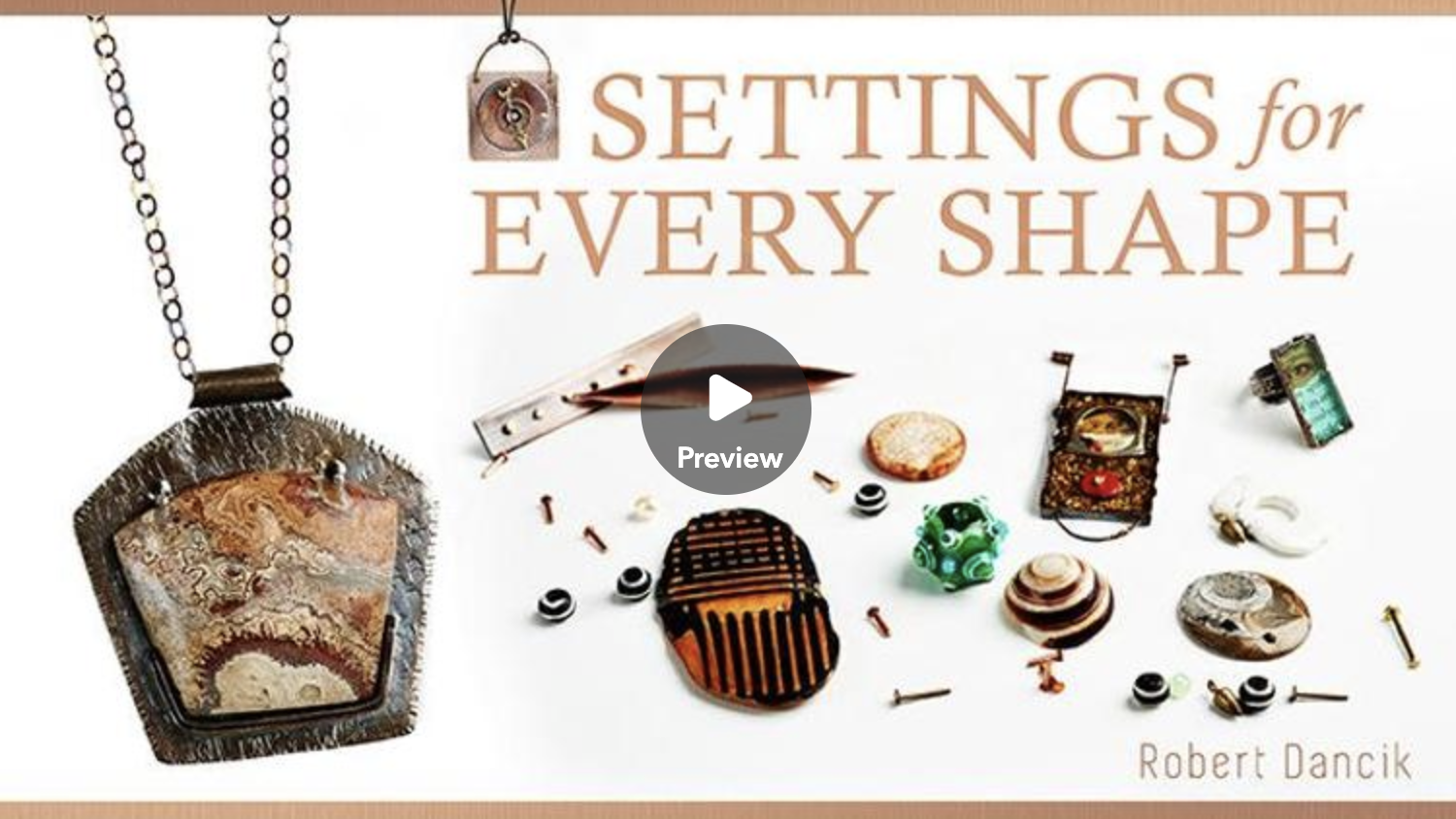 From stones and sea glass to plastic bike reflectors, find out how to capture irregularly shaped objects with a range of striking settings. Expert jewelry artist Robert Dancik shares foolproof tips and techniques from 30 years of experience. Start with essential riveting skills and then learn how to use tab captures to set objects that can't be punctured. Delve into fold-forming and annealing techniques before exploring a versatile box-form setting. Follow along with Robert to efficiently size, cut and shape the box, and use concrete to securely embed your object inside. Then, discover a variety of solder-free settings for faceted stones, including snap and tube captures that are perfect for gems both large and small. Finally, learn to solder a textured bezel and a partial pronged bezel, opening the door to endless design possibilities for found-object jewelry.